Solar thermal plant in Friesach inaugurated
largest solar thermal plant in Austria opened
In Friesach in the Carinthian district of St.Veit an der Glan the largest solar thermal plant in Austria was recently opened. Climate Protection Minister Leonore Gewessler (Greens) and Governor Peter Kaiser (SPÖ) were present at the opening.
On an area of 5,700 square meters, KPV Solar has installed a solar thermal system with 436 large-area collectors from the austrian manufacturer GreenOneTec. The operator is Unser Kraftwerk, which initiated the project through citizen participation. As usual, committed citizens were able to participate in the project and receive an annual payment.
The generated heat is fed into the district heating network of Kelag Wärme GmbH via a 1000 m³ buffer storage tank and distributed from there to the district heating customers in Friesach. The plant thus supplies, in the summer months, the complete hot water demand of the regional district heating customers.
The plant generates an output of 2.5 gigawatt hours, which corresponds to an annual consumption of 500 apartments.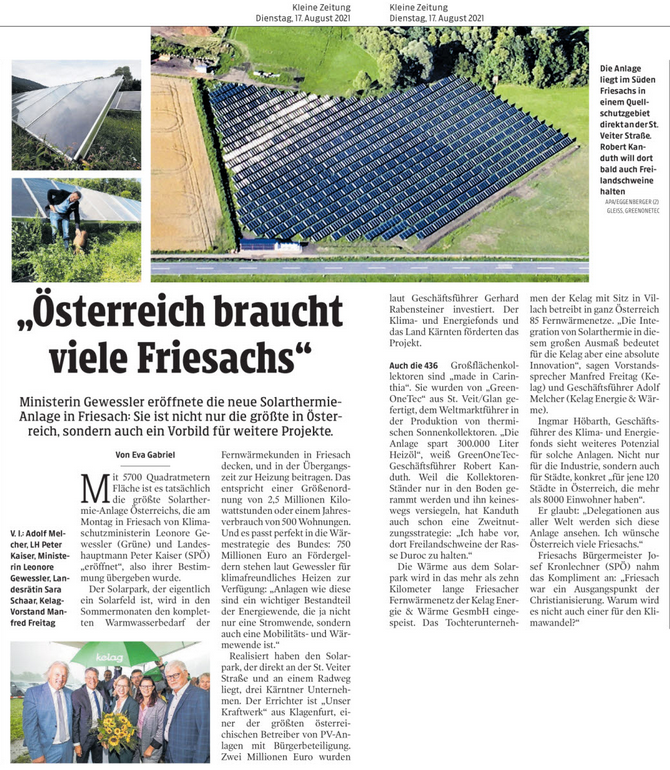 Further readings (german) :